Types of Cooling Systems

Central Air Conditioners and Heat Pumps




Central air conditioners and heat pumps are designed to cool the entire house. In each system, a large compressor unit located outside drives the process; an indoor coil filled with refrigerant cools air that is then distributed throughout the house via ducts. Heat pumps are like central air conditioners, except that the cycle can be reversed and used for heating during the winter months. (Heat pumps are described in more detail in the heating section.)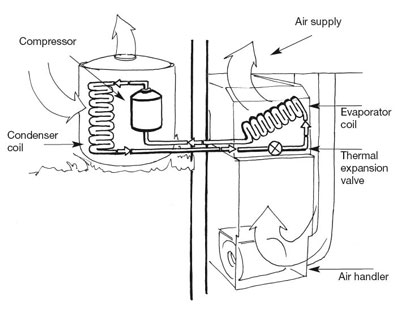 With a central air conditioner, the same duct system is used with a furnace for forced warm-air heating. In fact, the central air conditioner typically uses the furnace fan to distribute air to the ducts.
Room Air Conditioners
Room air conditioners are available for mounting in windows or through walls, but in each case they work the same way, with the compressor located outside. Room air conditioners are sized to cool just one room, so a number of them may be required for a whole house. Individual units cost less to buy than central systems.
Room air conditioners are rated only by the EER, which is cooling output divided by power consumption. The higher the EER, the more efficient the air conditioner. Revised federal minimum efficiency standards for room air conditioners adopted in 2011 will take effect in June 2014; revised ENERGY STAR requirements will take effect in October 2013. Table 5.2 lists requirements for units with louvered sides—the most common type.
Evaporative Coolers
Evaporative coolers, sometimes called swamp coolers, are less common than vapor compression (refrigerant) air conditioners, but they are a practical alternative in very dry areas, such as the Southwest. They work by pulling fresh outside air through moist pads where the air is cooled by evaporation. The cooler air is then circulated through a house.
This process is very similar to the experience of feeling cold when you get out of a swimming pool in the breeze. An evaporative cooler can lower the temperature of outside air by as much as 30 degrees.
Ductless Mini-Split Air Conditioners
Mini split systems, very popular in other countries, can be an attractive retrofit option for room additions and for houses without ductwork, such as those using hydronic heat (see the heating section).
Like conventional central air conditioners, mini-splits use an outside compressor/condenser and indoor air handling units. The difference is that each room or zone to be cooled has its own air handler. Each indoor unit is connected to the outdoor unit via a conduit carrying the power and refrigerant lines. Indoor units are typically mounted on the wall or ceiling.
Source- http://smarterhouse.org/cooling-systems/types-cooling-systems
Another resorce- http://www.familyhandyman.com/heating-cooling/home-air-cooling-tips/view-all